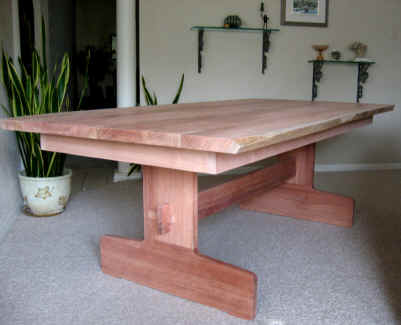 This solid 42" wide and 80" long table was fabricated from the client's raw Jarrah wood, a form of Australian Eucalyptus. While common in its native country, it is considered an exotic species in the US and not readily available.
The client trusted Texas Timber Wolf with the limited quantity of material and we fabricated this table with a 2" solid table top on a sturdy wedge jointed leg construction. The requirement was that the top had to be detachable and the base collapsible for transportation. In addition, specific height and weight requirements were given to make the table suitable as a dining table or a conference table. Finally, the directive was to preserve the bark edge on the two long sides of the table.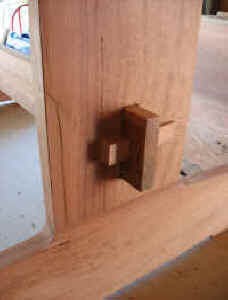 We catered to the requirements by adding a 4" tall Redwood skirt to gain height and allow for a hidden bolt connection of the top to the base. The base itself consists of three pieces with through-tennons held securely in place by wooden cross-wedges. Glue-less construction makes approximately 400 pond heavy table reasonably transportable.