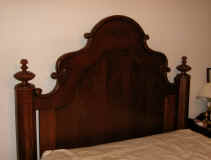 Before:
The client owned a Lexington® brand Queen size bed which they wanted to extend to fit a king size mattress. Since this bed was part of an entire set, now discontinued by the manufacturer, buying a new king sized bed frame was not an option.


Texas Timber Wolf developed a creative design to fit the client's needs and maintain the bed's classy character. After cutting the headboard in half we fabricated a new center frame from solid cherry wood to extend the width by 16". Additional horizontal post-to-post support rails strengthen the new construction and new mattress boards securely support the larger box springs and mattress. The footboard was also replaced with a longer solid cherry board. A large heavy duty adjustable support brace in the center of the bed provides additional stability. Lastly, the new pieces were stained and treated with several clear coats to match the existing finish.
As special accent pieces we added hand carved trim pieces over the top edge of the new center frame on the headboard and finished it of with a fan shaped center piece in the style of the existing ornamentation. - A truly unique piece and a much more economical solution to the client's problem.