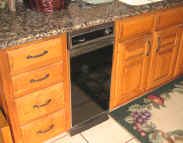 The owner of this traditional style Honey Oak kitchen wanted to remove a defective trash compactor and a leaking ice maker appliance and repurpose the resulting empty spaces.

After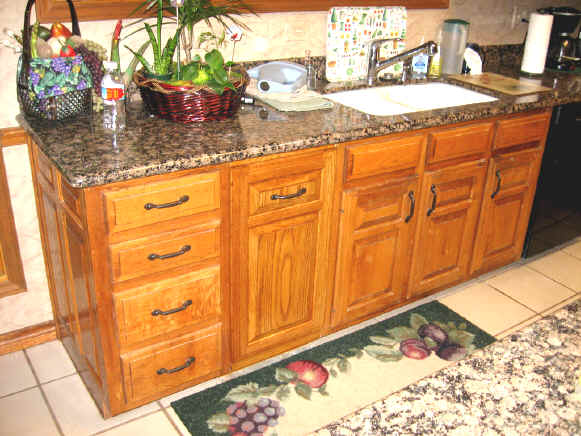 Before
The challenge to Texas Timber Wolf was to match door style, profiles, grain patterns , hardware and finish color of the existing kitchen and make the new fronts blend in.
We not only delivered to these requirements but also designed an innovative solution for the client with pull-out shelves and a tall top-mounted pull-out trash can.
Can you tell which door is the new one right away?
After the ice-maker appliance was removed it became obvious that the cabinet had to be completely rebuilt in the process due to extensive water damage.
The cabinet was then outfitted with two new pull-out shelves featuring taller backs that help keep items from falling off the back edge when the shelves are moved.

The Client was so happy with our solutions and the ready product that they recommended us to their neighbor who, in turn, ordered the trashcan pull-out as a replacement for their own trash compactor.
It is not always necessary to remodel an entire kitchen if individual issues need some attention. Retrofitting is an option specifically when appliances need to be moved or replaced, damages require repairs or the client desires minor functional changes. Combined with refinishing or re-facing, retrofitting can give your old kitchen an new lease on life and make the space more useful in the process.
What functional or design problems can we help you solve in your kitchen?