French Country Stain/Glaze Kitchen
The homeowners liked the kitchen layout but the old cabinets were worn out and of poor quality. The open kitchen demanded a cabinet design that combined functionality with the warmth and elegance of modern living. As a result, we created this French Country kitchen with solid Maple fronts. The Coffee stain with dark brown glaze adds depth and detail to the intricate frame style and cove raised panels.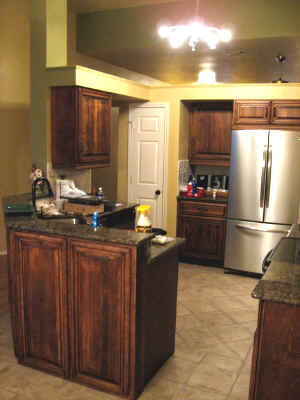 The kitchen and dining areas are separated by a peninsula island with cabinet door style panels topped with a 10" wide granite slab. A corner hutch with matching trim and door fronts extends the storage space into the dining area and ties the two rooms together.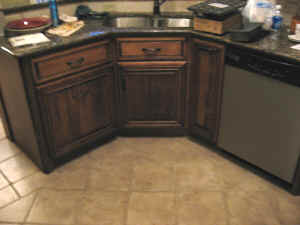 The intricate straight and diagonal tile pattern mix defines the main kitchen floor and adds style and elegance. 42" tall tower cabinets frame the range area and provide plenty of storage space. Rich crown and base moldings enhance the cabinets and offer space for task lighting.
All drawers are mounted on soft-close drawer rails for especially quiet operation. Lower cabinet doors conceal two pull-out shelves with the bottom shelf attached to the door to allow quick access to larger items without the need for multiple operations. Other features include pull-out double trash cans for recycling separation and sponge compartments by the spacious double sink.