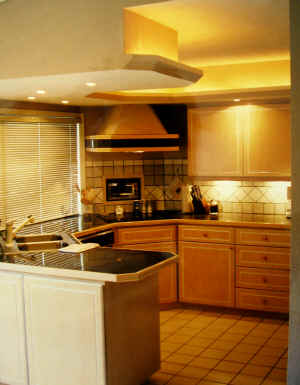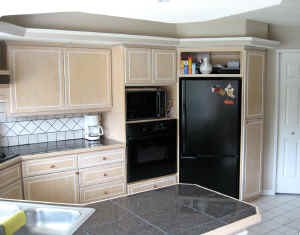 This 10'x18' kitchen in a 1970's Ranch style house was in dire need of updating. Painted cabinets, copper backsplash and 70's style drop ceiling with bright recessed fluorescence lighting paired with warn out appliances were no longer fit for the owner's day-to-day needs.

Texas Timber Wolf transformed the space into a showroom-style kitchen, built from furniture-grade Birch plywood to custom fit the room layout.

The finish is a whitewash with 5 coats of water-based polyurethane for shine and durability. The cabinet fronts feature exposed plywood edges that were painted white for a sleek, modern look. Countertops are covered in "Black Pearl" granite tile and wrapped in custom specially milled Poplar moldings. We performed all the work including cabinetry, tile and installation at very competitive prices.