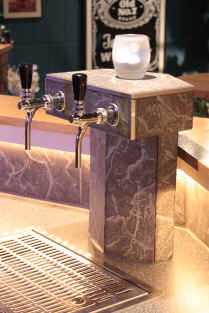 The rugged brick outer shell and clay tile roof construction give the room the outdoor "old world" feeling the owner desired.
A 19" wide equipment rack serves as the home for sound equipment and a curved counter inside and on top of the right hand "tower" provides the ideal work space for the hobby D.J.
The dual spout beer tap in the center of the work surface is built to commercial specifications and allows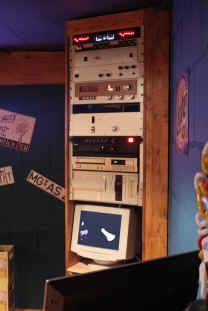 dispensing into all standard beer containers, including tall wheat beer glasses. A slide-in keg drawer under the work surface allows for easy access to beer kegs.
A ceramic tile backsplash provides an easy to clean and durable surface and is lit from a light rope under the service counter.
Built in appliances for hot water and refrigeration make serving and clean up a breeze.
4 drawers on the left side are built to last and function easily by means of heavy duty ball bearing drawer rails. Recessed drip pans with water tight seals in the counter top catch and drain any spills. Closed cabinet space underneath keeps the bar area tidy.
The functional element are tastefully balanced by a patio-like seating arrangement complete with planter boxes in the corners and a custom built tree to conceal electrical wiring.